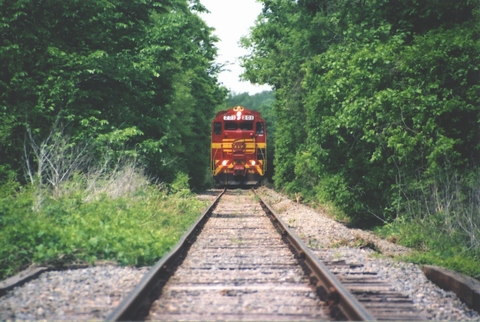 Blacklands #201, Tejas Excursion, April 17, 2004. Jason Lee Davis photo.

NETEX invites Expressions of Interest for intities that are interested in partnering, purchasing, or leasing the NETEX owned railroad right-of-way from near Wylie, Texas to near Winfield, Texas.
View the Request for Expressions of Interest for details.
Submission deadline: August 30, 2016
Congratulations to the NETEX operator,
Blacklands Railroad,
Railway Age magazine's
2011 Short Line Railroad of the Year!
NETEX, formed in 1995, is a Rural Rail District controlling 65.6 miles of operational railroad and a total railroad corridor of 88.8 miles in Northeast Texas between the Titus-Franklin County line and Wylie. This line was originally the "C-branch" mainline of the St. Louis Southwestern Railway. Operator of the line is the Blacklands Railroad.
rev. July 13, 2016